Welcome To The Baptiste Lake Association Website
News Posts:
Saturday, April 21, 2018 8:08 AM
FOCA Elert April 2018
Here is FOCA's latest Elert - Seasonal Weather, Cottage Succession Seminars, Great Lake Updates and more....
FOCA April Elert
Friday, March 30, 2018 7:17 AM
FOCA AGM
Please see attached for details on FOCA's March meeting.
FOCA Meeting
Saturday, March 17, 2018 5:30 AM
FOCA Elert March 2018
Please check out the latest FOCA Elert containing info about Septic Systems, Policy updates, Rural Broadband and more....
FOCA March Elert
Sunday, February 4, 2018 3:10 PM
FOCA February Elert
Here is a link for news from FOCA and notice of their Spring Meeting.
FOCA Elert
FOCA 2018 AGM
Tuesday, January 16, 2018 9:55 AM
Message from FOCA
Thank you for your association's continued support of FOCA! Please see the attached letter for current member benefits and offers. This letter should be shared with your members.Please refer to FOCA's Resources page
(https://foca.on.ca/resources/)
for more information. If you do not already have your FOCA Member Login you can access it here:
https://foca.on.ca/get-login/
FOCA is the Federation of Ontario Cottagers' Associations, a not-for-profit organization representing volunteer associations and individual property owners all across Ontario. We are your provincial voice. Associations like yours help support FOCA's mission to protect thriving and sustainable waterfronts across Ontario.Once again, thank you for your support!(Members please contact the BLA to get codes)
Why Support FOCA 2page NO CODES Jul2017.pdf
Monday, December 11, 2017 12:18 PM
Rezoning Applications Outcomes
During the Hasting Highlands Municipal Council meeting held at the Municipal Council Chambers in Maynooth on Wednesday, December 6th , Rezoning Applications for 2 properties on North Baptiste Lake Road - 2513 and 2519 requesting that the properties be changed from Environmental Protection Zone to Special Waterfront Residential Zone were discussed at length and in the end both applications passed This portion of the council meeting dealing with these 2 applications was attended by two directors of the BLA (Anne Coleman and Eric Hooey) as well as several concerned residents and two professionals on behalf of the applicants.
Because these two properties are located in close proximity to the Musky Bay Trailer park there were concerns by several people including the BLA Directors that if the rezoning applications passes, the Trailer Park would expand. In fact, this is not the case. The Rezoning application and the issues concerning the Trailer park are two separate issues and not related to each other. Currently the 2 properties do not have any residential buildings on them. One of the properties is listed for sale.
Originally the two properties were severed off a larger property in 1992 and were designated Seasonal Residential. During the amalgamation process in 2003, the two properties were erroneously reclassified as Environmental Protection Zone. The current application is to undo this error and allow the owners of the said properties to build on their property (subject to approval of council and the appropriate building permits) as they were legally entitled to from when they purchased the property up until amalgamation, or sell the property with the same potential for development as when they purchased the property. It was noted that if the applications were denied, the owners would suffer financially for an error that was not their fault.
Many people came forward to speak to the issue including the Surveyor, Rodney Geyer, who basically explained that the zoning had been incorrect when amalgamation took place in 2003 and that as far as the Ministry of Natural Resources is concerned, there should be no problem with the zoning "waterfront residential" because of the building restrictions attached to this type of zoning. (i.e. detailed plans for any building would need to be submitted to council for approval before any work could begin).
Cindy Blake-Bruinsma, the owner of 1513 North Baptiste Road, explained that her and her husband and their three children have owned the property and camped on it for 20 years and now wished to build a cottage.
Frank Walker, a near by resident, stated that the rezoning would interrupt the habitat as it exists presently in the wetlands. His points were pertinent to species, the ecosystem in place and he is most concerned about the "error" in zoning classification. If this portion of wetlands feeding the lake is not clearly defined, how many other mappings are there around the lake that will be deemed incorrect. The question was raised to Cathy Bujas, the Planning, Building & Development Clerk. The action to take here is to formally request Cathy Bujas to research how many such areas exist around the lake.
Rowena Card and Anne Coleman also spoke to the rezoning. Deputy Mayor Greg Roberts read a letter from Nancy Matheson who was unable to attend the meting due to illness. Councillor Matheson did not oppose the motion but stated her intention to raise a motion that the property, Musky Bay Campgrounds, be examined as to how it is zoned and how that zoning may be misused, at the next council meeting.
Mayor Bloom stated that Council was concerned about the Trailer park and that they would be monitoring the situation next summer and invited local resident to document any infringement of bylaws or zoning restrictions by the Trailer park.
The two rezoning motions were then formally read and passed by Council.
The official minutes of the meeting can be found at
Meeting Minutes
.
submitted by Anne Colman and Eric Hooey
Monday, November 20, 2017 1:43 PM
Rezoning Applications
Rezoning Applications have been submitted for 2 properties on North Baptiste Lake Road - 2513 and 2519 requesting that the properties be changed from Environmental Protection Zone to Special Waterfront Residential Zone. A meeting will be held concerning these applications at the Municipal Council Chambers in Maynooth on Wednesday, December 6th at 9 am. If you have any questions or concerns, please contact the Municipality.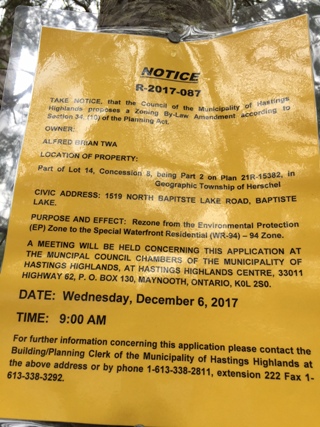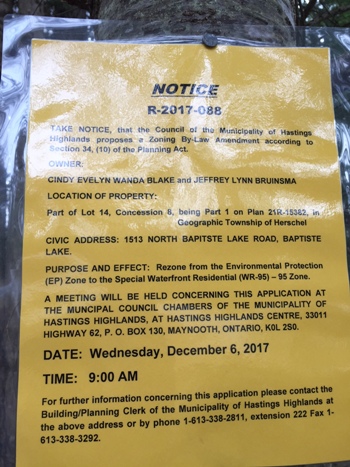 Saturday, November 11, 2017 10:04 AM
Recent changes to the BLA website.
During the past couple of weeks, several changes have been made to the BLA website. The most significant change was a rewrite to the menu system in order to make the menus functional on Apple devices using Safari. Previously, the menus were not fully functional and most of the content of the web site was not available to you, if you were using an Apple device. This has now been rectified..
Also, any bookmarks that you created previously, other than
www.BaptisteLake.org
, will no longer be valid, and will need to be created.
If you you encounter any issues with the website or would like more information on the specifics of these recent changes, please contact the
WebMaster
.
Wednesday, November 1, 2017 9:00 AM
2017 Fall Newsletter
Hi all - our 2017 Fall Newsletter is out! If you haven't received your copy in the mail please send us an email.
info@baptistelake.org
Link to electronic copy is here
Newsletters
Thursday, September 7, 2017 9:45 AM
Survey
We have been asked to encourage members of our lake association and neighbours to participate in an important survey.
Queen's University is conducting a joint survey with The Ontario Ministry of the Environment and Climate Change, the Muskoka Watershed Council, the Federation of Cottagers' Associations (FOCA), and Nipissing University that aims to explore cottage owners' perceptions of the health of Ontario's recreational lakes in your region.
The study's goal is to address the overall health of lakes in Ontario. The opinions and insights of the residents and cottage owners in your region are critical to the data that is gathered.
Based on a similar study conducted by the MOECC in 1985-1986, the 2017 Recreational Lakes and Algae Survey will assess residents' and cottager owners' perceptions of lakes with filamentous taste, odour-producing algae and blue-green algae. It will also gather data on how the algae has progressed since 1985, and explore the impacts it has had on the quality of the water, and on residents' use and enjoyment of the lakes.
You can participate here:
https://www.surveymonkey.com/r/algae1
For more information please contact carmen.ereira@queensu.ca.
Monday, September 4, 2017 8:40 AM
Corn Roast 2017
Well it was a bit wet but still a success! Thank you to those who made it despite the weather!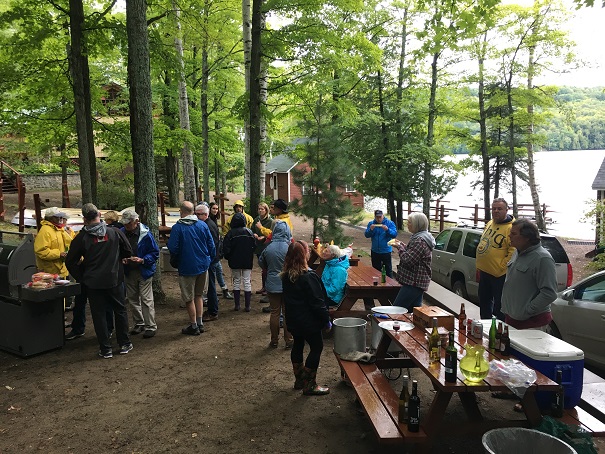 Monday, September 4, 2017 8:29 AM
FOCA Elert - Labour Day Long Weekend
Latest and greatest updates from FOCA are here!
FOCA Elert
Saturday, August 26, 2017 6:56 AM
Where do you see Turtles?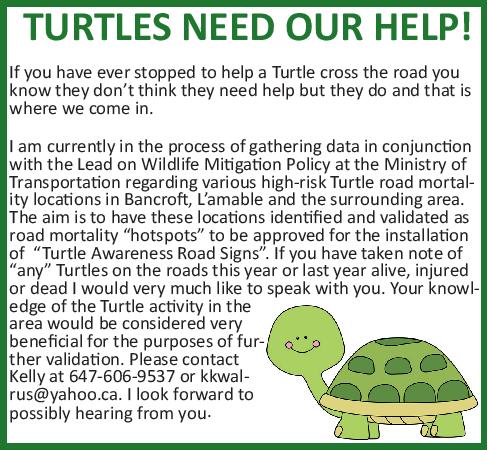 Thursday, August 24, 2017 5:52 AM
Annual Corn Roast
Just a quick reminder! Our annual corn roast will be held on September 3rd from 5 to 7 pm at Camp Ponacka. Aside from the delicious corn there will be hot dogs, beer and wine. Bring your family and friends. There is no cost but donations are gratefully accepted! Membership can be verified or paid at this event. See you there!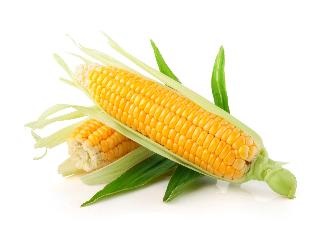 Sunday, August 13, 2017 7:25 PM
David B. Milne - Presentation August 19
A presentation on David B Milne (1882 - 1953) one of Canada's most famous artists will be held on August 19th at 10 am at Birch Cliff Lodge. His career spanned the first half of the 20th Century from New York City, to painting the ruins of WW1, to the Adirondacks, Six Mile Lake, Uxbridge and finally to Baptiste Lake. David Milne Jr., will explore his father's years at Baptiste with images and words.
This exciting presentation is a fundraiser for the St. Matthew's Church in the Baptiste Village making improvements to the church and hall for broader community use. There is no admission charge, however donations will be gratefully accepted. Coffee and muffins will be served.
Friday, August 11, 2017 10:47 AM
FOCA Elert August
FOCA Program Updates and Recent Events
FOCA August Elert
Thursday, August 3, 2017 6:22 AM
BLA Annual General Meeting
We are holding our Annual General Meeting on August 12, 2017 at 10 am at Birch Cliff Lodge. Please see attached agenda.
Agenda for AGM August 12, 2017.pdf
Monday, July 24, 2017 7:53 PM
Fireworks - To boom or not to boom
that is the question.... This certainly seems to be a hot topic these days. The lake is a place for some to enjoy the peace and tranquility and for others a place to let loose and have some fun. Fireworks are enjoyable to watch for the most part and have been around for a long time. But when is enough enough?? It used to be that they were only available for certain holidays and then they disappeared. Now they are sold almost everywhere, all of the time. We hear them almost every weekend and even some weeknights!
Besides the obvious environmental concerns, air and water pollution caused by the heavy metals used to create the bright colours and flash, there are also the effects of the noise and light on our wildlife as well as our family pets. The loud noises are extremely disruptive and can cause major anxiety as well as loss of hearing. Fireworks have also been know to cause fires and personal injury. And what of the veteran who suffers from PTSD?
The BLA has posted some signage around the lake hoping that people will stop to think about fireworks and their effect on our lake. Please let us know what you think.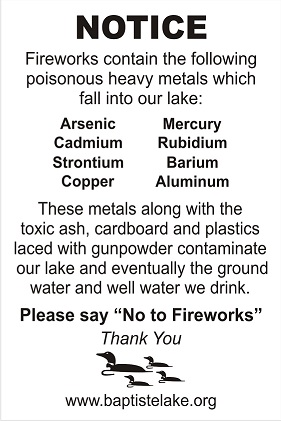 Friday, July 21, 2017 5:35 PM
Household Hazardous Waste Days
July 22 and October 14 at Loggers Field, Maynooth
View More News Posts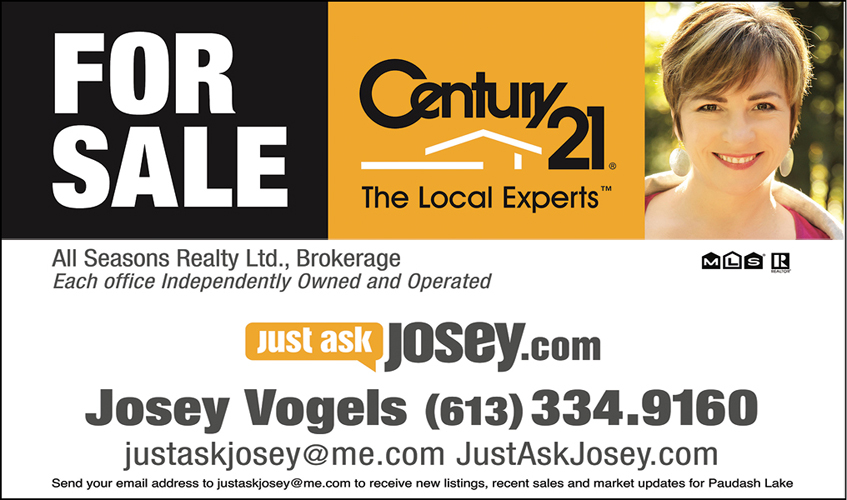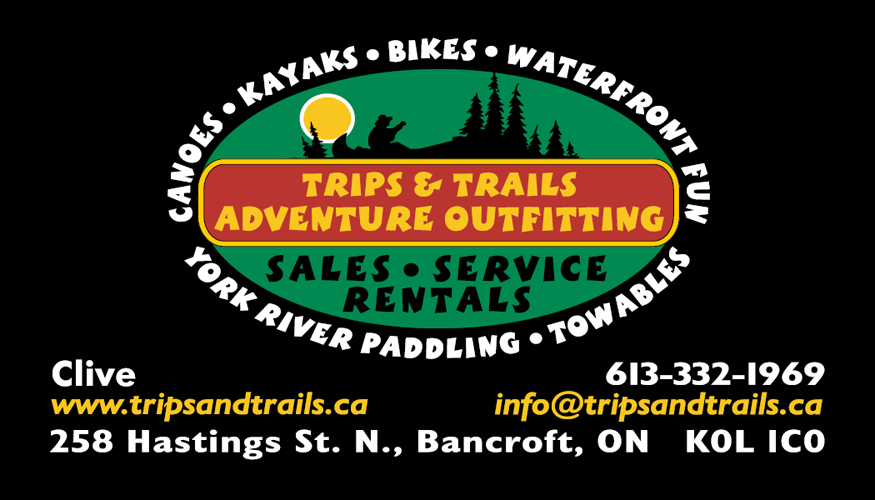 Support The BLA, Make A Donation.